Benefit Programs
ORNG Benefits Inc makes it a priority to research and offer the best programs that our Board has been able to identify. To qualify, the programs must be available for members of the Oregon National Guard, the Officer and Enlisted Associations, and in some cases ORNG Retirees and families of Guard members. The premiums must be competitive and the Insurance Companies must agree to return an administrative fee back to the Associations for each policy program written. Contact our Benefits Coordinator for specific information and or a quote.
Sometimes obtaining health care can be difficult because of pre-existing medical conditions, financial or employment situations. We have taken the opportunity to provide several special links that may help with obtaining coverage should you qualify. The programs are explained briefly as stated on their respective websites. If one should meet your needs go to that link for the specifics of that program and contact the representative identified.
1. Family Health Insurance Assistance Program (FHIAP): "FHIAP helps Oregon families pay monthly premiums for high-quality, preventive health insurance plans". Individuals or families who are uninsured and meet income and other guidelines receive subsidies to pay for insurance at work or to buy individual health plans. FHIAP can help Oregonians cover their families for just a few dollars a month instead of hundreds. www.oregon.gov/oha/ophp/fhiap/
2. Oregon Medical Insurance Pool (OMIP): OMIP is a high-risk insurance pool for Oregon. It was established by the Oregon Legislature to cover adults and children who are unable to obtain medical insurance because of health conditions. OMIP also provides a way to continue insurance coverage for those who exhaust COBRA benefits and have no other options. www.omip.state.or.us
3. Senior Health Insurance Benefits Assistance Program (SHIBA): SHIBA provides free counseling to people with Medicare and those who assist them. Volunteers who are trained in Medicare can help you select a Medicare prescription drug plan; find out if you are receiving all possible benefits; compare supplemental health insurance policies; review a bill; and file an appeal or complaint. This program is part of the Oregon Department of Consumer and Business Services and is funded by a federal grant. www.oregonshiba.org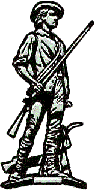 Term Insurance is typically designed to provide the greatest amount of life insurance coverage during the period of life when the loss of income would be most devastating. It is designed for a limited period and usually offered in limits between $5,000 to $500,000. Our Term Life Program is called SSLI (State Sponsored Life Insurance: see coverage overview and rates at: www.ssli.org).
PROGRAM BENEFITS: Up to $10,000 death benefit is paid within 24 hours, spouse and dependent coverage available, guaranteed issue minimum basic coverage, no war, suicide or aviation exclusions, accelerated death benefit (50% of coverage) in event of terminal illness, program can be taken with you upon departure from the National Guard. We also offer a SELECT TERM program which was also created for specific limited periods, but typically for those over 40 years of age. This program may fit better for full time technicians and AGRs.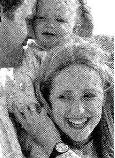 Permanent Insurance or sometimes called "Whole Life", this coverage typically provides life insurance coverage to age 100. Often it is based upon a flat monthly premium paid either for life or specified periods. This coverage, once offered, is guaranteed renewable and as long as the premium is paid. Often, this coverage is combined with the Term Life Insurance program to provide coverage to age 100, with the greatest coverage (term insurance) during the most critical time of need. Remember this coverage typically lasts to age 100, and the Term Insurance is for a limited period only.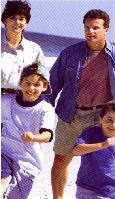 Long Term Care: Coverage offered to protect against the costs associated with long term illnesses. These costs are typically associated with the costs of nursing home care or assisted living care facilities. Annual costs for nursing homes have been estimated at around $44,100, and $25,300 for assisted living facilities. Coverage is offered for Oregon National Guard Members, Family Members (spouse, brother, sister, parent or grandparent), or Retirees. With many programs available, one can be designed around your specific needs/budget. The potential high cost of this type of care could put savings, 401k and retirement assets seriously at risk. Typically, the younger you are when applying for this coverage, the lower the monthly premium. Also, the less chance a medical issue would disqualify you for coverage.
Oregon National Guard members having trouble grappling with lifetime planning for special needs children, may now have an option. Our program contact understands government benefits, social security programs, advanced estate planning and emotional support. Typically, this program relates to children with Downs Syndrome, cerebral palsy, autism and traumatic brain injuries, to name a few. This program will help parents and guardians gain a greater understanding of benefits and programs available. Program components could include: Learning techniques to preserve governmental benefit eligibility for Social Security Income and Medicaid, Understanding legal and financial issues included with special needs planning and trusts, The Letter of Intent, Reviewing legal options when the special needs child turns 18 to include guardianship and conservatorship, and determining how much money is needed to provide lifetime quality care.
Two plans are available underwritten through Monumental Life Insurance Company. USBA recommends the "Preferred Plan" which offers benefits like:
First Occurrences of internal cancer: $1,500
Hospital confinement: Days 1 thru 69...$250/day, Days 70+ 100% (maximum monthly benefit $5,000), Radiation and chemotherapy...$1,000 (maximum benefit per illness period), Ambulance...$50 per one way trip, Transportation...$300 (maximum benefit per round trip), Extended Care facility...$100/day.
These are only some of the benefits of the plan. This USBA Cancer Expense Insurance Plan offers comprehensive Individual benefits for $22.00/month and $33.00/month for the Family Plan.
Click on the USBA Logo link below to connect to the USBA Cancer Program site, to review the details, obtain free information, or to contact someone.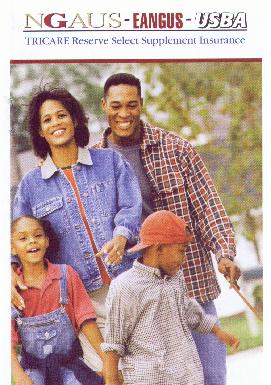 USBA, together with NGAUS/EANGUS, developed a TRICARE Reserve Select Supplement Insurance plan offered to all members of the National Guard. This TRICARE Supplement plan is designed to provide secondary coverage that will provide reimbursement for covered civilian medical bills after TRICARE pays the government's share of the cost. This is a guaranteed acceptance plan*. Out-of-pocket expenses can mount up quickly when receiving medical care outside the military system.
This plan helps to pay TRICARE cost share for in-hospital and outpatient care, doctor visits, emergency room care, prescription medications, and much more. Income generated from the program will be paid directly to NGAUS who will in turn compensate the appropriate state for those NG Members enrolled. You must be a member (active or retired) of the National Guard to qualify. Applications can be printed online. Click on the link below to determine eligibility, costs and benefits.
* A pre-existing condition may initially limit the extent of your coverage.
Eligibility: www.tricare.mil/reserve/reserveselect